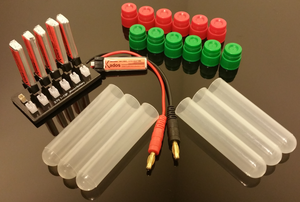 180Mah Power Pack (6 Batteries Plus a 12 Port Parallel Board)
NO INTERNATIONAL SHIPPING FOR ANY BATTERIES OUTSIDE OF THE USA SORRY
THIS KIT INCLUDES:
6X-180MAH BATTERIES
1X-12 PORT CHARGING BOARD
6 CRUSH PROOF TUBES WITH CHARGE INDICATING CAPS
These batteries weigh in at only 4.98 grams and have all the punch of the 210mah batteries with 1 less gram of weight and this can make a huge difference in a micro drone. We have had great results with this battery and can get over 4 minute flight times using a standard 14000kv motor on an fpv setup inductrix with cruising it around. With our Chaoli insane motors we were still able to get close to 3 minutes of flight time and without that extra gram you can really feel the difference in the thrust. This is tested with cruising around at a decent speed as well but not pushing the limits or doing flips. 
180mah
1s 3.7v .67wh
30c-60c
1.25 jst connector
Every battery comes in its own crush proof tube
---
We Also Recommend
---